Sweet potatoes are a versatile vegetable that can be eaten as is, mashed, roasted, or made into fries. They are an excellent choice for those following a vegan or vegetarian diet, as they are high in fiber and low in calories. Sweet potatoes are also a good source of vitamin A and potassium.
Sweet potato vs. yams
Sweet potatoes are often confused with yams, but they are two different vegetables. Sweet potatoes are typically shorter and have smooth skin, while yams generally are longer and have rougher skin. Sweet potatoes are also lighter in color, while yams are darker.
The most notable difference between sweet potatoes and yams is their flavor. Sweet potatoes have a sweet flavor, while yams have a more earthy flavor. Sweet potatoes are also higher in fiber and vitamin A than yams.
You can use sweet potatoes and yams interchangeably in most recipes. Still, there are a few dishes that are made explicitly with yams. If you're unsure which vegetable to use, just ask your grocer or check the packaging label.
Sweet potato variations
Scientifically known as Ipomoea batatas, these fleshy roots are members of the Convolvulaceae or morning glory family. There are wide varieties than just the typical red-skinned ones piled up next to the russets at the grocery store.
Beauregard
The most common sweet potato is available in supermarkets. In the US, it is the gold-standard potato. The meat is the sweetest orange variety and has reddish skin and vivid orange flesh. It holds its shape when roasted into fries and could be mashed into a puree for pies or casseroles because of its slightly stringy, soft, and moist texture.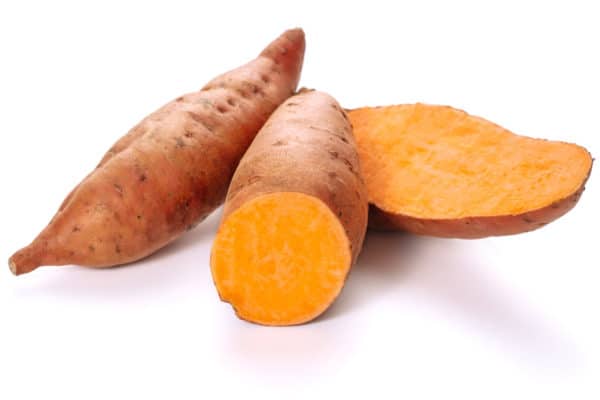 Covington
The malty sweetness of the orange peel with dark brown dots is distinct. It has a juicy and creamy texture, a popular variety in the South for making casseroles and pastries and for slicing and roasting.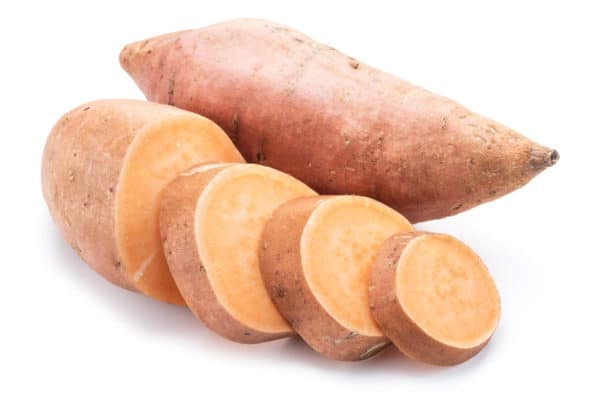 Stokes Purple
Deep purple meat can be seen beneath the light purple skin of this sweet potato. It tastes slightly sweet, has floral undertones, and has a firmer, dryer texture. Compatible with steaming, boiling, and baking.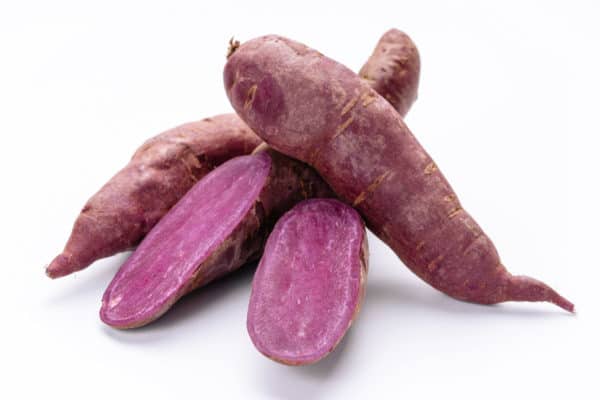 How to plant sweet potato
When you plant sweet potatoes, you plant the tubers, not the vines. You will need to wait until the weather is warm and all danger of frost has passed before planting your tubers. Sweet potatoes are like a sunny spot in the garden and well-drained soil.
Dig a hole about 8 inches deep and place the tuber in the hole with the sprout facing up. Cover with soil and water well. Space your plants about 18 inches apart. For best results, add some organic matter to your ground before planting.
Sweet potatoes require regular watering, especially during hot weather. Mulching around the plants will help retain moisture in the soil. Fertilize with a balanced fertilizer once a month.
In late fall, harvest your sweet potatoes by carefully digging around the plant and pulling them out of the ground after the leaves have died.
How to plant sweet potatoes in containers
Finding the appropriate container—including the suitable material and size—is the first step in producing sweet potatoes. You should then use the best soil to ensure that you have strong sweet potato vines that bear palatable sweet potatoes.
Size & material
Sweet potatoes need an enormous container to ‌spread their vines and develop large tubers. Twenty gallons or more are the ideal container sizes (though bigger is ultimately better in this case). Depending on your room, you can use different types of containers. For a small garden plot, raised beds are possible, or you can use grow bags on a deck or small patio with a capacity of 20 to 30 gallons. In a 20-gallon container, 4-6 sweet potato slips can be cultivated.
The most flexible option is a grow bag, allowing for expansion, airflow, and appropriate water drainage. But other common choices include clay, wood, and plastic. Ensure the container has four or more holes on the bottom to allow extra water to drain out. Place your container on a shallow dish to catch any water that may leak from the drainage holes if it is on a deck or patio. All you need to do is add drainage holes to a half wine or whiskey barrel to create the perfect container.
Metal is not a good option unless you are planting in a raised bed. Make sure the bed is at least 8 inches in height to give the potatoes plenty of depth. Small metal cans are rigid and frequently rust before the potatoes are fully developed.
Soil requirements
Sweet potatoes prefer loam and sand-balanced, well-drained soil. This enables the dirt to stay damp without becoming too so. Sweet potatoes in pots will grow well in high-quality potting soil with sand and compost added to keep the soil light and airy. As a result, the potato tubers can develop to their appropriate size. The soil mixture won't get too dry or moist if a suitable container is used. The same rule applies to raised beds: fill them with loam-sandy soil and modify them with compost.
Watering
A minimum of one inch of water per week is needed for sweet potatoes. If you planted them in a clay pot or grow bag, change because the soil will dry up faster. Your potatoes remain content and healthy in moist soil. Water the plant's roots to stop fungus from growing on the vines. Additionally, as needed, water throughout the week to prevent the ground from drying out.
Pruning
Pruning is essential only when the sweet potato vines and leaves get too big for the container. You can also remove any leaves that don't seem to be in good shape. For sweet potatoes grown in pots, you have the option of training and trimming the vines to climb a trellis.
Harvesting
Once the vines start to turn brown, and after the first frost, you'll know it's time to harvest sweet potatoes. Because the containers cannot prevent the potato tuber from freezing, don't wait until it is too cold.
Use your hands to carefully dig up each tuber rather than a garden fork to avoid damaging the tender skin. Do not wash them yet; simply brush off the excess dirt. Allow the sweet potatoes to cure for ten days in a warm place (around 80 Fahrenheit). After they have dried, put them in a box with airflow and keep them somewhere cold and dry.
Growing sweet potatoes in a sack
Sweet potatoes are a popular and versatile root vegetable that can be grown easily in sacks. To start, fill the sack with quality soil and compost, leaving enough room for the potato slips to grow. Potato slips are sprouts that emerge from the sweet potato eyes and are used as seedlings.
Next, cut some sweet potatoes into sections with at least one eye per section. Insert each section into the soil, about 4-6 inches deep with the eyes facing upward. Water your sack regularly to keep the soil moist but not waterlogged.
As your sweet potato plants grow taller, add more soil to cover them until only their top leaves are visible above the surface. This will help promote more root growth and increase yield later on.
Harvest time usually comes around four months after planting when you'll notice the yellowing of leaves and stems. Carefully remove your sweet potatoes from their sacks ensuring you do not damage them while doing so by gently loosening up any dirt surrounding them first before pulling them out of the ground. The result will be delicious, homegrown sweet potatoes ready for any recipe!
Nutritious and easy to grow.
Growing your own food is one of the best ways to ensure that you are getting fresh and nutritious produce. Sweet potatoes are a great option for those who want to grow their own food as they are easy to grow and packed with essential nutrients. In fact, sweet potatoes are considered one of the most nutritious vegetables available.
To grow sweet potatoes, all you need is a sack with soil inside. All you have to do is create small holes in the sack and plant sweet potato slips or cuttings. Ensure that the sacks receive enough sunlight and water them regularly. Harvesting your sweet potatoes is easy too; simply upturn the sack after three months of planting, and your harvest will be ready!
Sweet potatoes can be prepared in many different ways; they can be roasted, mashed, boiled, baked, or fried. They contain high amounts of fiber, vitamins A and C, iron, and potassium as well as antioxidants that protect against chronic diseases such as cancer and heart disease. Growing your own sweet potatoes not only ensures that you get nutrient-dense food but also saves money on groceries while reducing your carbon footprint by minimizing transportation costs involved in bringing food from farm to table.
Choosing the right sack:
When it comes to growing sweet potatoes in sacks, choosing the right sack is crucial. The type of sack you use will determine the success of your harvest as well as the overall health of your sweet potato plants. One option is a burlap sack which allows for proper drainage while still holding in moisture. These sacks also provide good air circulation for the roots, which is important since sweet potato plants thrive in well-aerated soil.
Another option is a plastic grow bag, which offers more durability and longevity compared to burlap sacks. Plastic grow bags also come with handles that make it easier to move them around if needed. However, they may not offer as much air circulation or drainage as burlap sacks do, so it's important to ensure that there are enough drainage holes at the bottom of each bag.
Ultimately, whichever sack you choose should be big enough to hold sufficient soil for your sweet potato plants and allow proper drainage and air circulation. It's essential that you select high-quality sacks with sturdy material that can withstand weather changes throughout the growing season. Once you've chosen your ideal sack, fill it with quality soil and start planting those sweet potatoes!
Size and material matter.
When it comes to growing sweet potatoes in a sack, size, and material do matter. The size of the sack is important as it will determine how many sweet potatoes you can grow at once. A larger sack means more space for the plants to grow and develop roots, which will result in a higher yield of sweet potatoes at harvest time.
The material of the sack is also crucial for successful potato growth. A breathable fabric like burlap or canvas allows air and water to circulate through the soil while preventing excess moisture buildup that can lead to root rot. Avoid using plastic bags or containers as they trap heat and prevent proper ventilation.
In conclusion, when selecting a sack for growing sweet potatoes, make sure it is large enough to accommodate multiple plants and made from a breathable fabric that allows air and water circulation. By choosing the right size and material, you can ensure healthy plant growth and an abundant harvest come harvest season.
Preparing the soil:
To prepare the soil for growing sweet potatoes in a sack, the first step is to choose the right type of soil. The ideal soil should be well-drained and rich in nutrients. It's recommended to use a good-quality potting mix that contains perlite or vermiculite, which promotes good drainage. Once you have your soil ready, it's time to hydrate it by adding water until it reaches a moist but not soggy consistency.
Next, you need to add some compost or organic fertilizer to enrich the soil with essential nutrients required by sweet potatoes. This can be done by mixing in some well-rotted manure or compost into the potting mix. You can also use granular organic fertilizers like fish meal or bone meal at this stage.
After amending your potting mix with compost and organic fertilizers, fill up your sack with prepared soil, leaving about 2-3 inches of space from the top for watering purposes. Make sure there are no air pockets inside as they can hinder root development later on. Finally, give your newly filled sack a good soak with water before planting your sweet potato slips (seedlings). With proper preparation and care techniques applied during the planting and maintenance stages, you should have healthy sweet potato plants thriving in no time!
Mixing soil for sweet potatoes.
The quality of soil used in growing sweet potatoes is essential to the success of the crop. Sweet potatoes require well-draining soil that is rich in organic matter and has a pH level between 5.0 and 6.5. Mixing the right proportions of sand, compost, and topsoil can create an ideal growing medium for your sweet potato plants.
To mix soil for growing sweet potatoes, you will need to combine equal parts of sand, compost, and topsoil. Start by filling a sack with equal amounts of these ingredients and mixing them thoroughly until they are well blended. The resulting mixture should be light enough to allow good drainage while retaining enough moisture to support plant growth.
Once you have mixed your soil, make sure it is moist but not soaking wet before planting your sweet potato slips or seedlings into it. Regularly check the moisture levels in your soil to ensure that it remains damp but not waterlogged throughout the growing season. With proper care and attention, you can grow healthy, delicious sweet potatoes using this simple method!
Planting sweet potatoes:
Planting sweet potatoes is a rewarding experience for many gardeners. This versatile root vegetable is easy to grow and provides an abundant harvest. One way to grow sweet potatoes is using sacks with soil inside, which is perfect for those with limited garden space. This method allows you to plant sweet potatoes in any location, as long as there's enough light and warmth.
To start planting sweet potatoes in sacks, you'll need to fill them with soil mixed with compost or manure. Then, cut seed sweet potatoes into small pieces about 2 inches long, making sure each piece has at least one "eye" or bud. Let the pieces dry for a few days before planting them in the sack. Once you're ready to plant, make holes in the soil every 12 inches and insert the seed potato pieces about 4 inches deep into the soil.
As your sweet potato plants begin to grow, water them regularly and keep the sack in a sunny location where they can receive at least six hours of sunlight per day. After several weeks, you may see vines sprouting from your potato plants – this means they are thriving! Be patient as it takes around three months for sweet potatoes to mature fully. When they're ready to harvest, carefully dig up your roots from the sack and enjoy your freshly grown produce!
Cuttings, slips, or seeds?
When it comes to growing sweet potatoes using a sack with soil inside, there are different options for planting – cuttings, slips, or seeds. Cuttings are pieces of the sweet potato plant stem that has been removed and rooted in water before being transplanted into the soil. This method is beneficial because the cuttings will produce an exact replica of the parent plant.
Slips refer to small sprouts that emerge from a mature sweet potato. To grow slips, place a sweet potato in a jar of water with half submerged and wait for sprouts to form. Once they reach about 4-6 inches in length, they can be removed and planted directly into the soil or grown further in water until roots have developed.
Lastly, growing sweet potatoes from seeds are possible but not as common because it takes longer than other methods and may result in less consistent results. The seeds can be harvested from mature sweet potatoes and sown directly into the soil.
Regardless of which method you choose when planting your sweet potato crop, ensure that your sack has good drainage to prevent rotting. Additionally, make sure you use a quality potting mix that is suitable for vegetable cultivation.
Caring for your sweet potato plants
To care for your sweet potato plants, it's important to keep the soil moist by watering regularly. As sweet potatoes are a vine crop, they require ample space to grow and spread out. So make sure you plant them in a sack with enough room for the vines to climb and spread.
It's also important to fertilize your sweet potato plants every few weeks. You can use organic fertilizers like compost or manure, which will provide the necessary nutrients without harmful chemicals. Keep an eye out for pests such as aphids or whiteflies that may damage your plants and take appropriate measures if an infestation occurs.
Finally, be patient with your sweet potato plants as they typically take around 100 days to mature. Harvest only when the leaves start turning yellow or brown and then let them dry in a cool dark place before consuming. With proper care, you can enjoy a bountiful harvest of delicious sweet potatoes from your very own garden!
Watering, fertilizing, and pest control
Watering is a crucial part of growing sweet potatoes in a sack. Ensure that the soil inside the sack is always moist but not too wet to avoid waterlogging. The vines will thrive best with consistent watering, especially during hot and dry weather conditions. Water approximately two times per week depending on your location's climate.
Fertilizing can help improve the growth of sweet potato plants in sacks. Use organic fertilizers rich in potassium and phosphorus for optimum tuber development. You can use compost or manure as an alternative to synthetic fertilizers. Apply fertilizers once every month by scattering them evenly on top of the soil surface.
Pest control is essential when growing sweet potatoes to protect your plants from insect infestations that could damage or kill them entirely. Common pests include spider mites and whiteflies, which you can control using insecticidal soap sprays or neem oil solutions applied directly onto the plant's foliage. Always read instructions carefully before applying any product to avoid damaging your crop, and ensure you follow recommended safety protocols like wearing gloves when handling chemicals.
Sweet potato nutrition
The nutrition facts for 3.5 ounces or 100 grams of raw sweet potatoes are: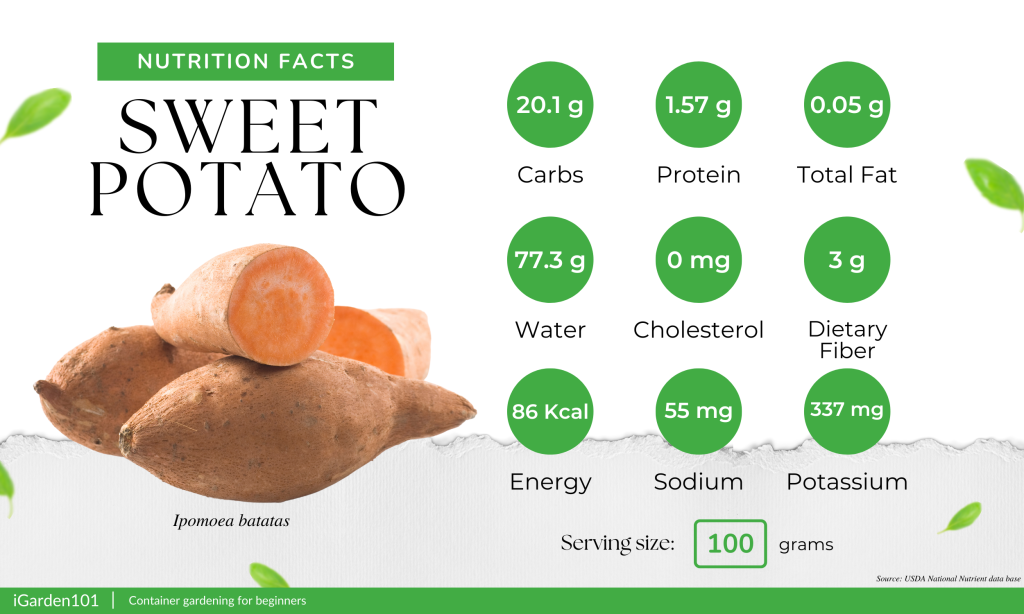 Sweet potato carbs
A medium-sized sweet potato has 27 grams of carbohydrates in just one boiling, skinless serving. Starches, which account for 53% of the total carbohydrates, are the primary ingredients.
Simple sugars, including glucose, fructose, sucrose, and maltose, make up 32% of the total amount of carbohydrates.
With a range of 44–96, sweet potatoes have a medium to the high glycemic index (GI). The GI gauges how quickly your blood sugar levels increase following a meal (6).
Large servings of sweet potatoes in a single meal might not be ideal for those with type 2 diabetes due to their relatively high GI. Especially noteworthy is that boiling appears to be linked to lower GI values than baking, frying, or roasting
Sweet potato benefits
Because they contain so many nutrients, sweet potatoes have earned the title "superfood." According to studies, they could help with:
Cancer. Sweet potato carotenoids may reduce your risk of developing cancer. Another natural substance called anthocyanin, abundant in purple sweet potatoes, might reduce your risk of developing colorectal cancer.
Diabetes. Sweet potato compounds may aid with blood sugar regulation. Sweet potatoes have a low glycemic index (GI) when boiled, which means they won't spike your blood sugar as quickly as meals with a high GI.
Heart illness. According to research, sweet potatoes can lower your LDL "bad" cholesterol, reducing your risk of developing heart issues.
Macular degeneration. Sweet potatoes are rich in beta-carotene and vitamin A, which helps reduce your risk of glaucoma, the most common cause of visual loss.
Obesity. Purple sweet potatoes may help you lose weight by reducing inflammation in your body and preventing the growth of fat cells.
Sweet potatoes contain a lot of carbs. Some cooking techniques, including baking, roasting, and frying, will increase their glycemic index and result in a surge in blood sugar. Consult your physician or a nutritionist for advice on adequately including this vegetable in your meals if you have type 2 diabetes.
Some people develop a severe allergy to sweet potatoes, which is relatively uncommon.
Sweet potato recipes
The sweet potato has been a popular food for generations. Still, yellow, white, and red potatoes sometimes outnumber them in popularity. That comes to an end here. These sweet potato dishes show that this super spud deserves the spotlight, from flavorful, crispy fries to creamy soup.
Sweet potato casserole
The mashed sweet potatoes in this sweet potato casserole are creamy and mushy, in contrast to its topping dusted with a nutty crumb mixture.
Filling Ingredients:
1/2 stick (4 tablespoons) unsalted butter, melted, plus more for buttering the baking dish
3 to 4 large sweet potatoes (about 1 3/4 pounds), peeled and cubed
1/2 cup milk
1/4 cup brown sugar, packed
1 teaspoon pure vanilla extract
1/2 teaspoon kosher salt
2 large eggs
Toppings Ingredients:
1/2 cup all-purpose flour
1/2 cup brown sugar, packed
1/2 stick (4 tablespoons) unsalted butter, melted
1/4 teaspoon kosher salt
3/4 cup chopped pecans
Instructions:
Add 1 3/4 pounds of sweet potatoes peeled and cut into cubes to a big saucepan of salted water for the sweet potatoes. High heat to a boil, then reduce to a simmer and cook for 15 to 20 minutes, or until the potatoes are incredibly soft. Cool and drain. Then mash them.
Set the oven to 350° F for the filling. A 2-quart baking pan should be buttery.
In a sizable mixing bowl, combine the butter, mashed sweet potatoes, milk, brown sugar, vanilla, salt, and eggs. Place in the baking pan that has been prepared.
To make the topping, stir the flour, brown sugar, butter, and salt in a medium bowl until the ingredients are moistened and the mixture clumps. Add the pecans and stir. Evenly layer the mixture over the top of the sweet potatoes. Bake for 25 to 30 minutes until the top is brown and the center is mostly set. Serve warm.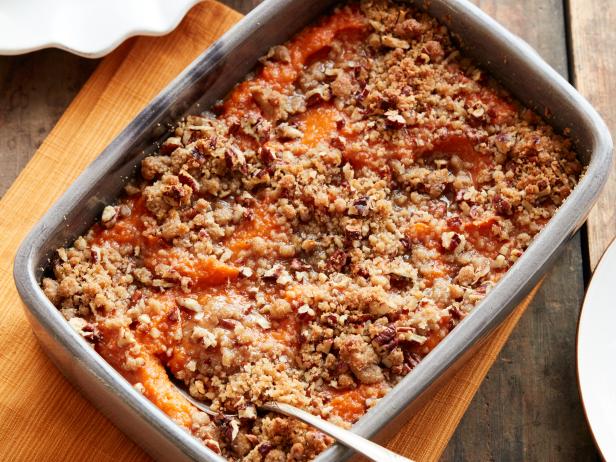 Sweet potato fries
The tips and suggestions in this recipe make it much simpler for you to treat yourself to sweet potato fries of restaurant quality.
Ingredients:
1 1/2 pounds sweet potatoes (about 2 large or 3 medium)
1/3 cup cornstarch
1/2 cup water, cold
Vegetable oil for frying
Kosher salt, flaky sea salt, seasoned salt, or cinnamon-sugar blend
Instructions:
Put ice and water in a large basin and set it aside.
Peel the sweet potatoes before being sliced into 3 to 4-inch-long 1/4-inch sticks.
The sweet potatoes should sit in the ice water for 30 to 60 minutes.
Cornstarch and cold water should be combined in a sizable container or bag and stirred until smooth. It will be a very thin mixture.
Place the cornstarch and water mixture with the potato strips. Make sure the potatoes are thoroughly coated if using a bag; if using a bowl, stir to combine.
To a depth of about 2 inches, pour the vegetable oil into a big, heavy pan or Dutch oven. Oil is heated to 325° F.
Utilizing a slotted spoon and working in small batches, remove the potatoes from the bag or basin and carefully transfer them to the hot oil. Discard the cornstarch mixture. Fry them for about 1-2 minutes. To prevent them from sticking together, give them a couple of stirs. The fries should be soft but not browned when finished.
Lift the potatoes onto paper towels or brown paper to drain using a metal slotted spoon.
Increase the oil's temperature to 350° once all of the potatoes have been fried once. Fry the sweet potato sticks for about a minute, working in tiny batches. (Before frying each batch, let the oil regain its temperature.)
Remove the fries to paper towels or brown paper to continue to drain once they have reached a golden brown color.
Add kosher or season salt to the sweet potato fries, or lightly sprinkle with a cinnamon-sugar mixture.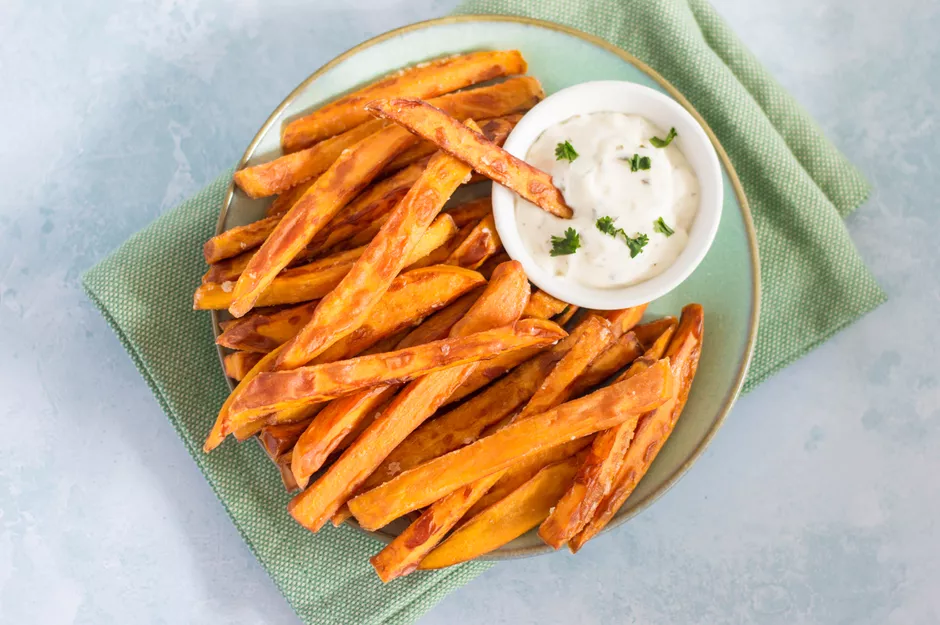 Sweet potato fries air fryer
Make excellent air fryer sweet potato fries at home to up your fry game. With this simple 20-minute recipe, you don't need to go to a restaurant to get crispy sweet potato fries.
Ingredients:
1 medium sweet potato, peeled
1 tablespoon canola oil
1/2 teaspoon kosher salt
1/4 teaspoon pepper
1/8 teaspoon garlic powder
1/8 teaspoon ground sweet paprika
Instructions:
Set the air fryer to 400° Fahrenheit (200° C).
Frying sweet potatoes in half-width pieces. Toss to coat in a bowl with the canola oil. Mix the seasonings—salt, pepper, paprika, and garlic powder—until all the fries are coated.
Put a uniform layer of fries in the air fryer basket, working in batches if required.
Cook for 10 minutes or until golden in the air fryer that has been preheated. Cook the remaining fries by repeating.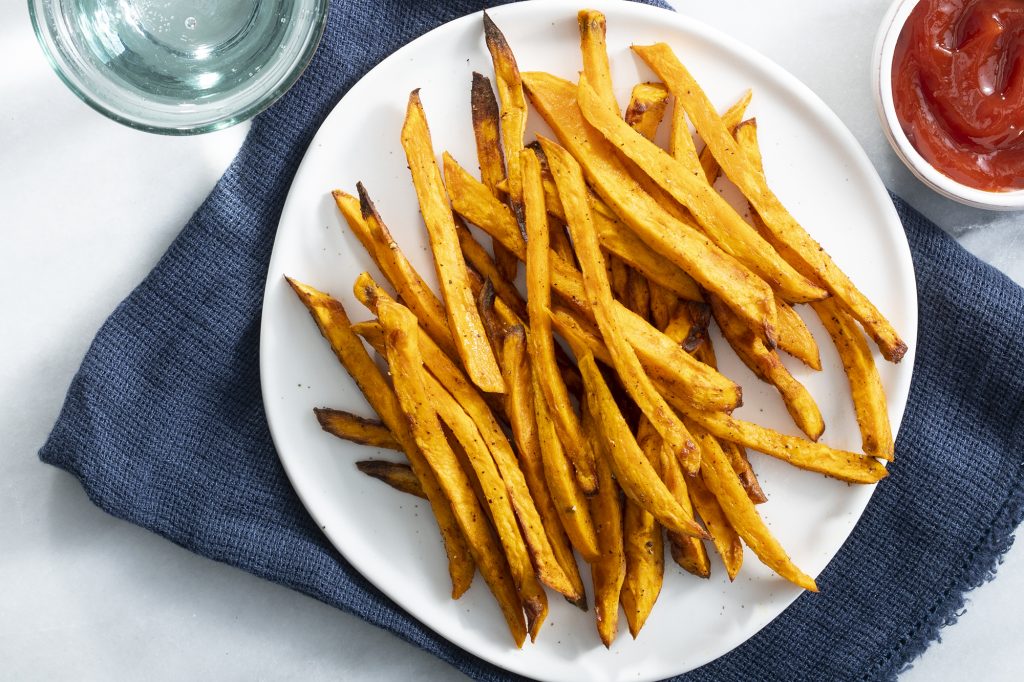 Sweet potato soup
With leeks, onions, garlic, and other savory ingredients like nutmeg and cinnamon, sweet potato soup strikes a balance between the sweet and delicious.
Ingredients:
2 tablespoons butter
1 medium onion, chopped (about 1 cup)
2 celery ribs, chopped
1 medium leek, white and light green parts only, sliced (see How to Clean Leeks)
1 clove of garlic, chopped (1 teaspoon)
1 1/2 pounds (about 2 large) orange-flesh sweet potatoes, peeled, cut into 1-inch pieces (about 5 cups)
4 cups chicken stock, store-bought or homemade (use vegetable broth for vegetarian option)
1 cinnamon stick
1/4 teaspoon ground nutmeg
1/4 cup heavy cream
3/4 cup milk
Salt
Pepper
1/4 cup sour cream or plain yogurt
Instructions:
In a big, thick-bottomed pot over medium-high heat, melt the butter. After 3 to 4 minutes, add the chopped onions, celery, leeks, and sauté for an additional 5 minutes, or until the vegetables are tender. Cook for another minute after adding the garlic.
Add the chicken stock, nutmeg, cinnamon stick, and sweet potatoes. Bring to a boil on a high heat setting. Simmer uncovered for about 20 minutes, or until the sweet potatoes are easily pierced with a fork.
Cut the cinnamon stick off. To puree the soup, either use an immersion blender or a standing blender to do it in batches.
Add milk and cream to the soup. The soup should be heated all the way through on medium. To taste, add salt and pepper.
To serve, top the soup with additional water-thinned sour cream or plain yogurt and extra black pepper.
Source: